How to Get Rid of Head Lice Naturally?
Natural Ingredients, primarily Neem oil, are more effective head treatments than short-lived chemical lice treatments. Read How to get rid of lice and nits now.
Since you are a rational person, you would possibly already know that natural remedies measure higher and continually recommended and preferred over chemical remedies. Same is the case with fighting lice infestation. Natural treatments work higher and absolute that win over the modern chemical ones.
How Chemical Lice Treatment Works?
Typical chemical treatments work by entering into the louse (singular for lice) nervous system. A known fact that this does not have any effect on louse egg, as a result of they haven't developed nervous systems yet. This then ends up in a half-cured lice eradication method. The nits are still not removed from hair. Also, chemical treatments have virtually no result on Super lice, because they have developed resistance to even the harshest of chemical treatments used for head lice treatment. The lice eggs then hatch to produce more lice and the cycle continues. The only way to get rid of nits is harsh n painful combing to remove nits stuck in hair. This doesn't do the job well.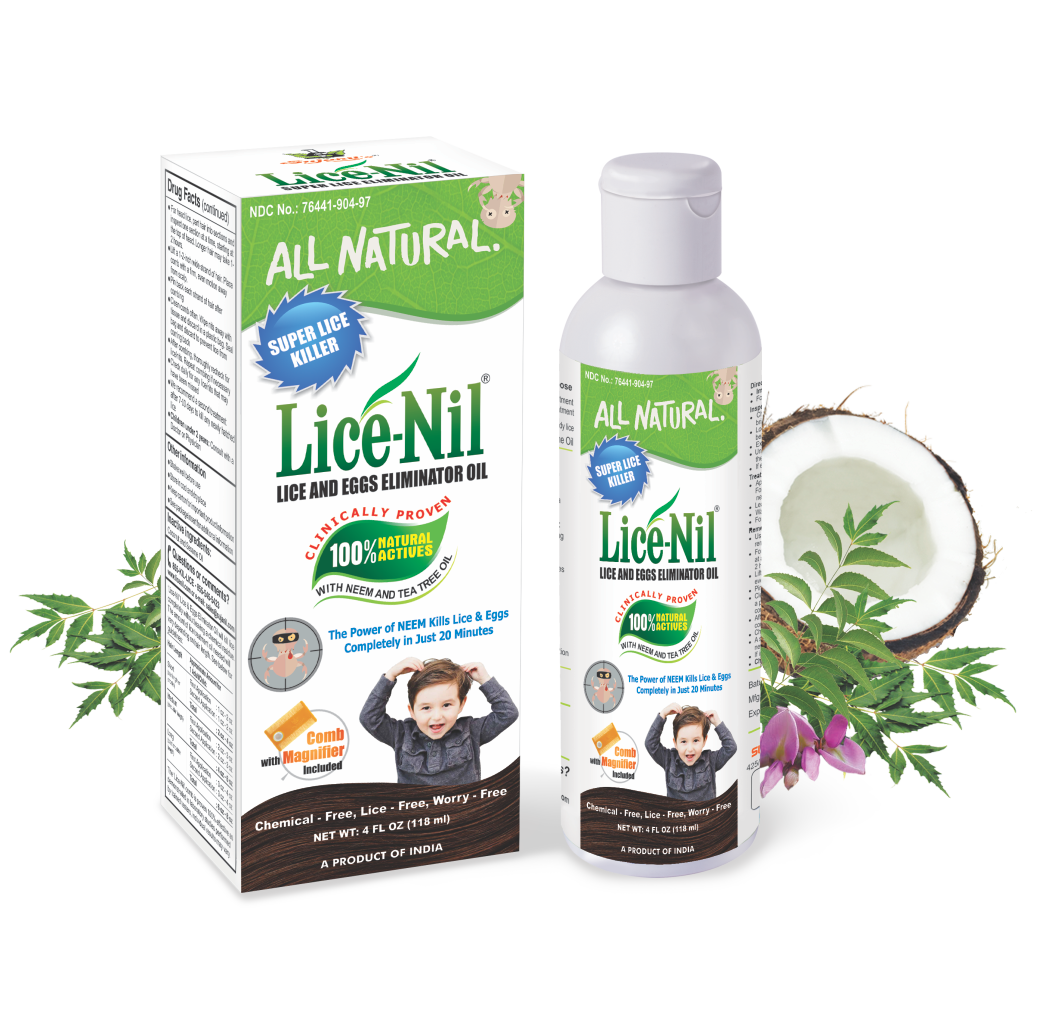 How Neem Oil Lice treatment Works?
Neem oil which is an extract which is oil pressed from seeds and fruits of Azadirachta indica tree. This powerful lice remedy is safe and 100% natural. It works by encapsulating and suffocating lice and even penetrates the aeropyles (tiny openings) at the top of lice eggs. This blocks the oxygen (O2) flow and forms Carbon dioxide (CO2) gas thwarts the expansion of the nits. This ends up in an entire lice life-cycle elimination. Thus, this is a great measure. This is how you can eliminate lice and nits.
Few Good to know facts of Neem Oil treatment:
Neem oil contains insecticidal ingredients stop the reproduction and further growth of head lice Neem oil works wonders in ceasing swallowing systems of lice Neem oil isn't harsh on the skin and causes less irritation and skin sensation Along with handling head lice, it helps to feature shine to your hair and moisturises your scalp
Lice-Nil : A Perfect Head Lice Remedy
Lice-Nil consists of neem extract and is an oil-based treatment. Lice-Nil once applied to the lice-infested hair, can encapsulate and suffocate each lice and eggs. The application time is as small as 20 minutes. We would like to conclude that neem extract in Lice-Nil works effectively and naturally. Compared to common chemical lice remedies, Lice-Nil targets lice and their eggs to eliminate them and stop recurrences.